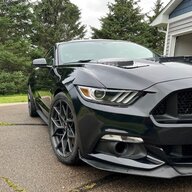 Joined

Nov 26, 2014
Threads
Messages
Reaction score

163
Location
Vehicle(s)

Mustang, GR86
I still don't understand why people think that just because it was supposed to use the same platform as an SUV it would have been bigger and higher off the ground. It's simply not accurate. Just for example take a look at the VW MQB platform, used for the Atlas 3 row mid-size SUV along with the GTI, Golf R, Audi TT and RS3 just to name a few. I wouldn't say any of those cars are big, bulky, and high off the ground.
I assume any SUV chassis is set up for front wheel and four wheel drive. That means the engine has to be high up above the front suspension to give room for the front driveline components. Yes you can probably modify the chassis raising the front suspension up or lowering the engine location, but the rear of the chassis will also be set up for a higher ride height instead of having provisions for the drivetrain to be recessed and the car as low as possible.
So why take a chassis that's not set up for a sporty, low vehicle and then have to modify it so much? Why not use a chassis under an actual sporty, performance vehicle as a starting point? Something like the current Mustang chassis.
All of those VAG "cars" are really high off the ground. They could be a lot lower if they weren't set up for AWD or FWD
They are also big and bulky for what they are. Yes they are smaller than some cars with a V8, but they don't have V8s.
I think quite the opposite would've been the case. New platform would allow the usage of lighter materials (aluminium frame and such) and would've also allowed for structural improvements. Hybrid and AWD would've been easily implemented. Just because CD6 is so far only used by suv's doesn't mean it couldn't host a proper GT.

However, I think when Hackett took over, a new Mustang was thrown under the bus along with the entire CD6 platform. God knows why and

@amk91

has given us some useful insights in what might has happened but at this point I don't see any future usage of the CD6 platform. It is already a couple of years old and I doubt Ford would use it to develop something that will hit the markets in 2025 or beyond that.
What frame would you suggest to make from aluminum? I'm sure you realize modern cars don't have frames. Front and rear subframes could be switched to aluminum with no other changes to the car. Certainly a new chassis is not needed in order to have aluminum subframes.
What about the current platform precludes the use of aluminum? The Mustang already uses aluminum. I agree it would be good to use more if it can make the car lighter. Frankly I'd rather see the car get smaller and still use steel so that it doesn't shoot up into the $80K range for a loaded GT. IMO $60k is already too high.
I don't want the Mustang to be setup for AWD. That means it will be higher off the ground, heavier and less sporty. AWD is terrible IMO.
If you want AWD, there are a ton of "cars" out there with AWD. Pick one of them rather than wrecking the Mustang. Don't say you think all the good AWD cars are too expensive. Remember the Mustang would be more expensive if converted to AWD.