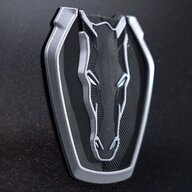 Administrator
Staff member
Administrator
Another prototype for the next-generation Mustang has been caught testing—this time on public roads—in what looks and sounds like the first sighting of the next-generation S650 2024 Mustang EcoBoost.
This latest disguised Mustang is proof that the Pony Car prototype pool is expanding, equipped, as it is, with unique ID numbers and a unique registration plate. It's good to see more prototypes hitting the test circuit, after the initial two were caught testing a few weeks ago.
This latest prototype had the distinct auditory signature of a turbocharged four-cylinder, with none of the deep V8 rumble captured on the earlier, road-tested Mustang GT tester. Its wheel design also looks more consistent with the Mustang's EcoBoost trim. The interior was massively camouflaged, with every surface—including the steering wheel—covered in fabric. We listened for any signs of a trick transmission—such as the manual with a push-button electric clutch in the shift lever—that was just reported as a Ford patent filing. We're not sure what that might sound like, but we didn't hear anything noteworthy in terms of gear shifts.
With more prototypes now hitting the road, we should be getting more and more chances to encounter the next-generation S650 Mustangs in public settings. We'll be on the lookout for new details to reveal themselves in the coming months!