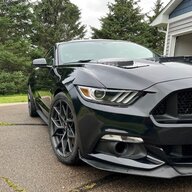 Joined

Nov 26, 2014
Threads
Messages
Reaction score

324
Location
Vehicle(s)

Mustang, GR86
Ease of refueling?
Rural ICE.
City commuter TBD.
Debatable, plug it in when you get home and forget about it? Cross country road trip ICE superior infrastructure and faster refueling. But that is the issue, it depends on if you live rural or city and what your drives look like. So it really depends on use case.
Note if you live rural, you more likely have a truck than a Mustang; at least in Texas.
[QUOTE/]

I would say in the city people would have more issues charging the EV unless they are living in a house with a garage. In large apartment buildings the EV would be more difficult or potentially impossible.

Rural and suburbs the EV gets easy to refuel, but still you have potential resale/reliability issues. If you don't care about $$, the EV could be competitive, but most people do care about $$.