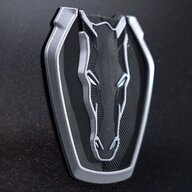 Administrator
Administrator
We just caught a new Mustang-based mule track-testing, which might give us our first visual evidence that higher-performance Mustang variants above the GT are in the early developmental stage. Is this the early fetus of the next-gen GT500?
As we all know, prototypes for the 2024 Mustang are now running on public roads with regularity, both in four-cylinder EcoBoost form and in rumbling V8 GT guise. These prototypes are fully camouflaged, and hide the full production-intent bodywork under the vinyl disguise. This new Mustang test car appears to be something different. It is possible that this is an early Mustang mule which had adopted the 2024 bodywork—and just now found its way onto our camera sensor—but this one looks to have a more extreme, high-performance set-up.
This mule appears to have the robust Brembo braking set-up from the GT500, along with the same exhaust and rear diffuser design. The suspension looks downright slammed, with the wheels completely filling the wheel arches. The interior looks to have been largely removed with lighter-weight testing in mind, and the mule is equipped with a roll cage. This prototype looks ready for some on-the-edge shenanigans.
The front-end camouflage is generally the same as we've seen the rest of the 2024 Mustang prototypes. The front bumper intakes look big and aggressive—at least GT-spec in scoope— but we notice a distinct angled protrusion as the mule's chin spoiler wraps around the sides of the front bumper. It looks as if this prototype might have some form of extra aerodynamics in effect, bookending the fore and aft portions of the front wheel arch. Such an aero feature is a notable part of the GT500 performance upgrades. At the very least, this looks like something above the standard GT, providing encouraging signs that gnarly gas-powered engines are still part of the Mustang's performance brief as we head into an increasingly electrified world.