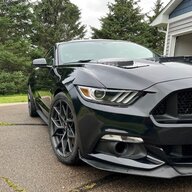 Joined

Nov 26, 2014
Threads
Messages
Reaction score

364
Location
Vehicle(s)

Mustang, Camaro
Baffling oversimplification. You want more power? Cool. Pay for stronger internals, more complex engines and accessories, bigger brakes, bigger tires, beefier suspension components, and stronger chassis construction, ALL which would significantly impact weight, fuel economy, and cost. Your GR86 is literally the perfect example of why low power equals low weight, low cost, and low running expenses.
Yes, I agree if Ford made a real increase in power that would require adjustments to some other areas of the car. Many of the things you named would not require changes, though unless the car was intended to be a track car. And a 600 or 700 HP engine can be simpler than a 480 HP engine. You can easily make 1,000 HP with an NA 1960's Ford pushrod engine and some bolt on parts. Also, remember the GT500? The Mustang chassis can accommodate some power increases over 480 HP.
Yes, design changes cost money. They'd have to overhaul the entire car's formula. Spend what I would assume is at least double into developing a brand new powerplant in an era where literally nobody else is investing into volume ICE units because they're going extinct. NOT because it's "hard" for them to make high power engines, but because it needs to be 1) warrantied and 2) regulation compliant.
They already have studied what to do with more than 700 HP in the car. And all the fancy Shelby stuff isn't necessary for a street car.
And good luck selling this thing anywhere outside of the US, where emissions laws are even stricter. If you weren't already aware, the GT500 can't be sold in Europe because it can't pass emissions regulations.

Unless you want Ford to downsize to a turbocharged 4 or 6 cylinder or rely heavily on hybrid tech like EU products, which I can bet my life savings on would be a huge no.


Shrinking the car would be nice, except the back seats are already tiny and storage is just sufficient. Didn't work out well for the Camaro. And it's not like they sell enough of them to justify amortizing the costs of aluminum like they do on an F-150 which sells 10-fold the volume.

You might be okay with no rear seats or a small trunk; I doubt the general, non-hardcore enthusiast population would say the same.


What's nearly 90k?
DH pricing is in this thread. Most Mustang buyers would be fine with a smaller rear seat and a smaller trunk. Ford sells Mustangs with multiple engines. They don't all have to be available in every market. People who want the big engine can figure out ways to work around whatever EU rules are there.
I don't think Camaro died because of rear seats. There's a lot more issues with the car than that. For me, it was mostly how the car drove - pushrod engine, cheap shifter, stuff like that. Pricing included. If it had been enough cheaper I would have bought one.
Multiport injection's only drawback is that its design is technically more complex. But you get the benes of DI without worrying about clogged valves and carbon buildup. Assuming the fuel pumps are reliable, MPI is a better alternative than DI. And both are exceedingly more efficient than standard port injection.
It's a bunch of tech that does nothing for me, the end user. I don't care about fuel economy (not when it's just a couple MPG). So the car costs more to make and it has less value for me. Not a formula for sales success.
And that thing you mentioned about how easy it is to build a 600hp engine? Good luck making a modern engine hit those numbers without DI/MPI that can pass emission regulations. You won't find one that's unless it's being force fed air with a supercharger or turbocharger, which WILL add more weight, more cost, and more complexity than the former.
Other car companies do it. Ford has a lot more resources than Ferrari. They're making a 800+ HP NA engine right now.
Well it's a good thing they didn't because then the car wouldn't sell internationally AND they'd have an even harder time passing CAFE standards considering higher displacement engines, with all other factors being the same, will produce worse fuel economy.

I urge you to learn up on road taxes around the world:

https://en.wikipedia.org/wiki/Road_tax

The 5.0's already a big bertha across the seas. Most countries tax by displacement and the big penalties start after 2.0Ls.
If a typical used car is better and cheaper than what they are allowing companies to sell, they are asking for trouble.
I don't blame you for wanting the same buying power we all had 10 years ago but I think you need a perspective check.
I have similar buying power, but a little more common sense. Probably buying a new 2015 and then a new 2016 GT350 the next year changed my thoughts on new cars. And 10 years ago the new cars were improving. I think the 2015+ Mustangs are quite a bit better than the previous stick axle cars. Now I don't think they are improving enough anymore. Would you sell your 1970 Boss 429 and buy a 1978 King Cobra?