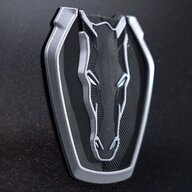 Administrator
Administrator
We just caught a new Mustang prototype with a striking new wheel design and a dual-caliper braking set-up that looks to be a step up from the
Mustang GT prototype shot last month.
The latest Mustang prototype was driving in some heavy traffic, so we were limited in the shots that could be gathered before it drove away. However, we were able to capture some new, interesting features in its details. Stunning wheels look similar in theme to the 19-inch Tarnished Dark-painted Aluminum Wheels available on the current Mustang Mach 1.
Behind those wheels lies un upgraded braking system, showcasing a dual-caliper set-up that was previewed on some of the Mustang S650 mules that were running around last year. The dual-caliper set-up moves the primary caliper to the front side of the rotor, while a secondary caliper is attached aft of the rotors. It should be noted that the rotors on this latest prototype also look to be larger those found on the earlier, single-caliper-equipped Mustang GT prototype. For reference, only the big, bad Mustang GT500 gets a dual-caliper set-up on its rear brakes (with the positions of the primary and secondary calipers swapped, compared to this new prototype).
It's nearly impossible to read the size of the tires mounted on this new Mustang prototype, but we believe we can see first number—they appear to be 275s. If that's true, these tires are wider than the 255s on the Mustang GT prototype, so we may be looking at a high-performance upgrade package, or a new Mustang model slotted above the GT.
We're now on the lookout for a longer encounter with this intriguing new Mustang prototype. Stay tuned!