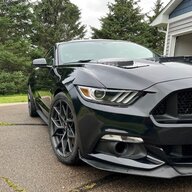 Joined

Nov 26, 2014
Threads
Messages
Reaction score

240
Location
Vehicle(s)

Mustang, GR86
I see where you're coming from, I'm not a huge fan of how the grille sweeps down, it gives it kinda a funky shape. But I do like designs where the headlights and grille are one united and clean graphic that goes across the entire front end. Like what you see here, or one the new bronco or challenger. It just looks clean and agressive to me.
I agree the bronco and challenger designs look good, but they also don't remind me of a caveman unibrow. The latest Accord does look a little better than it did a few years ago when the design language first came out..
If you look at like the Toyota Camry, there are no clean, cohesive design elements, there's no sense of flow to it. It's just a bunch of different lines sweeping in different directions with no relation to one another.
I agree with you here. The Camry has kind of a predator face with too many different shapes in it.
The accord isn't perfect, but the only current sedan that beats it in terms of looks is the Mazda 6. Assuming the Mazda 6 is still on sale, I think Mazda announced they're planning to kill it soon if they haven't already. The last gen Impala was also a massive design improvement over the impala designs of the last 30 years or so.
Hmm, current sedans.. trying to think what sedans are out there, because I'm not a sedan buyer. I'd say Dodge Charger is better looking than the Accord. Also most of the Mercedes sedans look better. Volvo's Polestar is beautiful IMO way better than Accord. Pick any Audi - they look better to me than the Accord. The non-bucktooth BMWs are generally at least ok looking roughly equal possibly somewhat better than Accord depending on your taste. A few years ago I would say BMW was head and shoulders better looking than Accord, but the latest BMWs aren't quite as good. I didn't google the latest from Fiat or Alfa or Maserati, but I'd assume they each have at least one better looking sedan.
Definitely some Asian cars like hyundai and genesis make sedans that aren't as good looking as the Accord, but IMO there are a lot that look better as well.