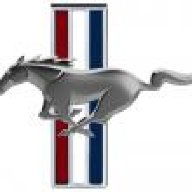 Super Moderator
Moderator
For me, they've ALL been poster cars, including the SN95 and definitely the S197, despite what this writer thinks.
At first, it seems obvious that an executive would want his sports car to be poster-worthy. But keep in mind that Mustangs... have not always been poster-worthy. This might be a divisive take, but it must be said: Both the SN95 and S197 Mustangs were some of the plastickiest and cheapest looking Mustangs in recent memory. They looked like they were happiest sporting a set of chrome wheels and some dumb wing. The design was forgettable at best and clumsy at worst. Whenever I see one of these things I have to look away and try to forget they ever existed.
Her opinions aside, Jim Farley is a car guy like the rest of us.
Speaking to our own Kyle Cheromcha recently at Monterey Car Week, Farley wouldn't confirm whether or not the next Mustang will appear next year. But when asked if there are any broad Mustang goals that he would care to share at the moment, Farley responded, "For my kid to have it on his wall. Or on his phone"
https://www.thedrive.com/news/42160/fords-ceo-wants-next-the-mustang-to-be-a-poster-car