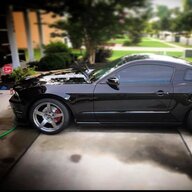 Joined

Sep 9, 2013
Threads
Messages
Reaction score

18
Location
Vehicle(s)

Ford Mustang
Every year me and my buddies go out to the Charlotte Auto Show, so this year was no different. I was even more excited this year because the S650 would be there. I tried to hold my judgement of the car until I saw it in person, but it was hard. Especially since the car in the reveal and in all of the pictures we have seen so far didn't wow me at all. To me it was and still is to a certain degree S550 v3.
Seeing it in person only cemented that initial thought to me. I worked my way from front to back every inch and taking it all in. Thoughts below:
Front - S550 (15-17) style headlights and an M3 front bumper.
Hood - Flat S550 (15-17) hood with a Camaro style vent.
Front quarters/doors/roof/apillars - S550 (15-17)
Rear Quarter - that hip is YUGE and I love it!
Rear - this is where it loses me. It looks like we had 4 different though processes here. The lower portion of the rear bumper is just awful. It comes up way too high, and from the side profile of the car sticks out too far. The taillights are just 'ok' for me. Not good not bad, just there. The trunk lid is also YUGE from the edge of the window to the end. This car definitely needs a spoiler to cover it. But just not this spoiler. Looks like it came off a Type R Civic to me. The trunk panel between the lights being body color is interesting, especially given the blacked out nature that surrounds the taillights, it just looks incomplete.
Interior - The car was locked so couldn't see in, but did see the screens from the front through the windshield. This by far is the most controversial part of the car for me so I was hoping to at least have the windows down. So for now, I'll still hate it.
A fellow car dad was beside me and he is a current gen Camaro owner. We talked about Ford being the only one offering an ICE V8 engine and Dodge and Chevy killing their muscle cars. He said to him he saw a lot of Camaro and Dodge influence in the new Mustang and said it turned him off, but the biggest turn off was the screens in the interior and that it could be out of any car and didn't scream Mustang. Another conversation had there was with a family friend who is the manager of our local Roush dealer. I talked to him for a long time about the '24. He says no GT500, nothing supercharged, and no RS3 out of Roush, not surprising as this is the first year of a new MY, but it almost sounded like he meant period. He also said that the '24s going around are just MY22's with different body panels - again not really surprising since the cars aren't out yet. But I thought these were interesting insights.
All just my opinions of course, but I'm hoping once they start hitting the road and people start modifying them I'll grow to like them but as of now, meh is all I can come up with.